Long delays at Schiphol Airport
May 25, 2022
I spent over an hour in line, and walked 2 km, (in the snow, both ways) to get through airport security this morning.
Today I'm flying to Barcelona for work. I live just a few kilometers from the Amsterdam Schiphol Airport, so I planned to leave the house around 11:30am for my 1:30pm flight.
Then I saw the news: There are labor shortages and a potential strike ongoing at the airport, with reported wait times of up to 5 hours to get through security!
So I came early. I finally found the end of the security line at 8:41am… about 500 meters outside the building!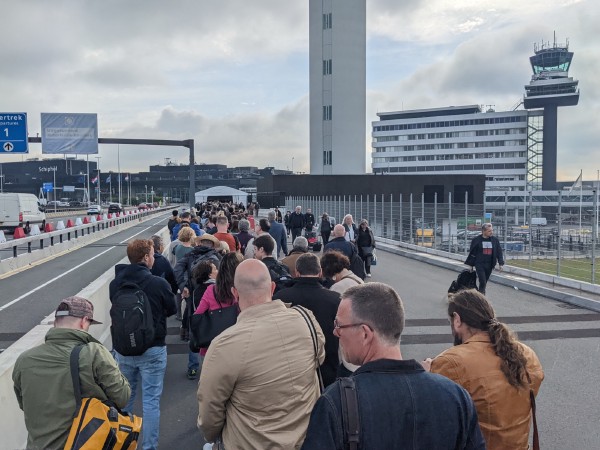 Aproximately one hour later, and what I estimate to be 2 kilometers of walking (1.2 miles), I was finally through security. Not bad, considering the worst-case reports.
This reminded me of my post about airport queues last month, to which I got a few replies. They all amounted to essentially finding ways to skip some of the queues, from checking in online before you arrive at the airport, to enrolling in programs like TSA precheck.
Categorically, I'd say these approaches correspond to two patterns that are sometimes used in software development, too:
Self-service. Online check-in (or even on-site checkin with a kiosk) are examples of self-service. Self-service doesn't neceissarily mean faster service, but it does tend to shorten the queuing times.
Prioritization. TSA precheck, along with other forms of priority lanes (you've seen the crew-only security lanes, right?), don't necissarily eliminate queues. But they do give a higher priority to certain types of traffic. Often this is coupled with traffic that is naturally faster to serve, too (TSA precheck has already undergone a security screening, as have crew members).
Of course in "DevOps", self-service is a common theme. If we can give developers access to the tools they need to manage their own software deployments, infrastructure, logs, etc, then we can eliminate the queue between those who write software and those who deploy it.
And in software we're also no stranger to prioritization. If you've ever rushed a hotfix to production, you know all about that.
I have one other crazy idea about how we might reduce queues at an airport. But today's mail is long enough, so I'll share that tomorrow.
Get daily content like this in your inbox!
Improve your software delivery
I write daily about improving software delivery. Sign up to get tips directly in your inbox. I promise to respect your inbox, and abide by my privacy policy.