In search of the perfect Laptop Daypack
August 1, 2012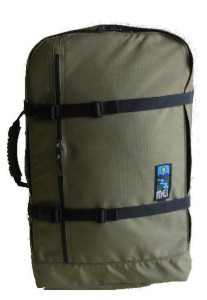 I like to travel. And I already own the perfect travel pack. It's the MEI Voyageur travel pack (US$136 direct from the manufacturer). MEI essentially invented the travel pack (a combo duffel bag, suit case, and back pack all in one). It's perfect for a light traveler, such as myself, for a number of reasons I won't really go into here. My only regret with buying this pack is that I bought the green one. Why? Since buying the pack, I've learned that some countries have forbidden green luggage, as it appears "militaristic." Wow. Really? Anyway, I'll probably never visit such a country. But if I had it to do over again, I'd buy black, or blue, or some other color that would have less chance of being a limiting factor.
Anyway, on to what I really care about today… Although I love this travel pack, I need a daypack to go with it. What's a daypack? I'm sure many of you know, but for the uninitiated (like I was, 6 months ago), a daypack is used when you leave your hotel. You'll leave all your luggage in your hotel room (or at your Couch Surfing Host's house), and hit the town with your much smaller, and lighter daypack, which will carry only your essentials. Sun screen, camera, cell phone, money, maps, a book or e-book reader, snacks, water, bathing suit, dancing shoes, etc.
A daypack is also great when you're traveling by air or bus, and are required to check your main bag at the gate. You can simply grab your daypack (which ought to be stowed in your main travel pack), re-close the travel pack to check it. Then you won't be left with your essentials when forced to check a bag.
Well, there are many popular daypacks. Many hiking luggage sets even come with detachable daypacks, such as the MEI Trekker I and II. But I don't want a detachable daypack. I want one to go inside my existing travel pack. I also want one large enough to carry my laptop. Therein lies my problem.
Most bags marketed as daypacks are too small to carry my laptop. And most bags large enough for my laptop are too small to fit (practically) in my travel pack.
So, this is where I ask for your help. Please let me know what kind of backpack you use for your laptop! Here are the criteria it must meet to qualify as the "perfect daypack" for my purposes:
It must hold my laptop, with dimensions of 13.5"x9"x1" (34cmx23cmx2.5cm)
It must fit in my REI Voyageur travel pack, with internal dimensions of (roughly) 20"x13"x8" (51cmx33cmx20cm)
It must be a backpack! That means it has straps to go over my shoulders. No hand bags.
It must be lightweight. 2.5lb (1.25kg) as an absolute upper limit, but the smallest I can find that will fit my needs is what I want.
It must be durable. I'll be using this thing a lot! Even when I'm not traveling, this will be my primary laptop carrying case.
Ideally, it will have a padded sleeve or area to protect my laptop
It must have room for additional accessories, such as:

A bluetooth or USB wireless mouse
Bluetooth or USB headphones/microphone
Computer charger, cell phone, cell phone charger, etc
Sleeping mask and ear plugs (for those times when I'm forced to check my larger bag on long bus trips)
A small amount of nuts or dried fruit
A book or Amazon Kindle
A safe and convenient place to store maps, airline tickets, or other papers I accumulate while traveling
Ideally, a place to store a water bottle on the outside of the bag, for easy access
What have you used, or seen, that might fit the bill for me?
Get daily content like this in your inbox!
Improve your software delivery
I write daily about improving software delivery. Sign up to get tips directly in your inbox. I promise to respect your inbox, and abide by my privacy policy.